Rewards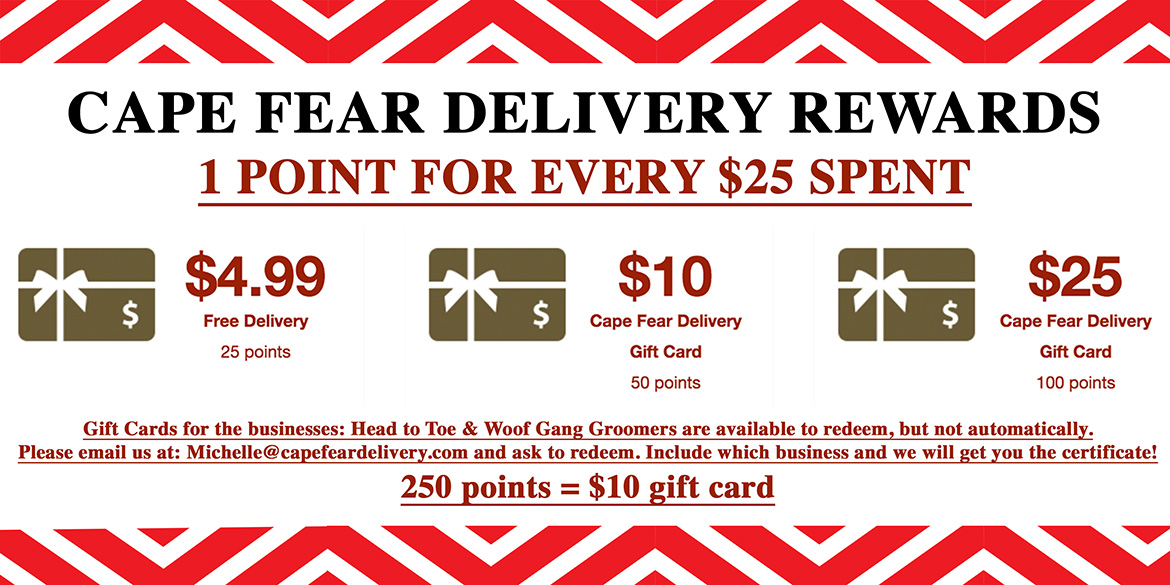 Rewards are given when you order with Cape Fear Delivery.
You will receive 1 point for every $25 spent on your ticket. The total comes from the subtotal, not the grand total. You can redeem your points for a FREE DELIVERY when you have reached 25 points, or you can save your points to 50 or 100 points and choose a $10 or $25 Cape Fear Delivery Gift Card! These you can redeem automatically by going to your account, clicking on Rewards Marketplace, and redeeming straight from there.
Cape Fear Delivery also offers two other local company gift cards for redemption. You can redeem a $10 gift card for either Head to Toe or Woof Gang Groomers with 250 points! In order to redeem one of these, you must email us at Michelle@capefeardelivery.com and state what you want to redeem.
Create an account with us today to get your points started! Order now by clicking on restaurants and choosing your favorite!
Have Questions?
Email us at Michelle@capefeardelivery.com or call us at 910-399-8424! We would be glad to help you order, answer any questions, or help you get your special delivery!